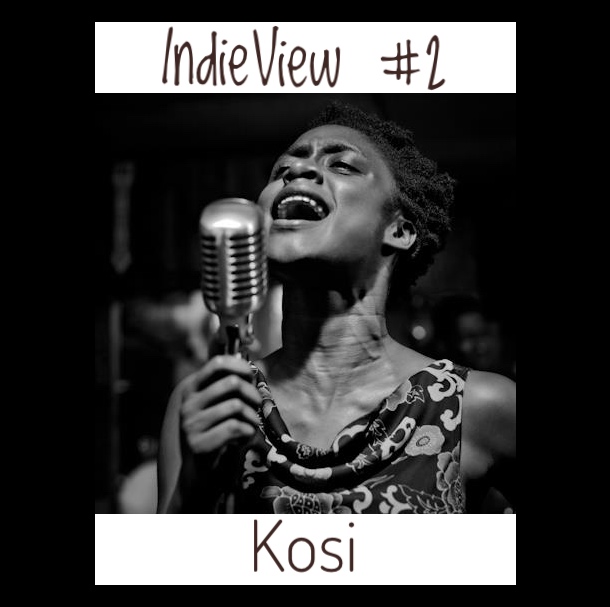 Here we are at our second appointment with IndieViews. Today we will be talking with a jazz songwriter
from New York, KOSI.
I had the pleasure of getting to know her and her latest album "I know who I am" during the promotional tour for the 60th Grammy Awards.
Here we go.
Kosi
One More Cup of Coffee – 2013
Pictures of Us – 2014
Ghosts Appearing through the Sound – 2015

I Know Who I Am – 2016
This is what our friend Tri Nguyen says about the album: "A capella for the first track just gave me goose bumps. The more I plunged into the record, the more amazed i was. The album not only shines thanks to your formidable vocal beauty, but the conception, the message, the integrity of this masterpiece is breathtaking. I really can't say which tracks are my favorites, I just love them all!!! Servant's prayer has an original structure that nails you to the speakers and doesn't let you go. There is power in each and every track."

ABOUT YOU
If we cast your mind back to when you were a kid and a teenager: what are your earliest musical memories?
I was in the children's choir in a little country church in Rosedale, Queens. Back then I thought I was a soprano. It turns out I was wrong about that. I rarely ever volunteered for a solo because I was too shy, but when I knew I would be drowned out by other kids all singing as loudly as they could I would also sing as loudly as I could. I would do the same thing when I was on the swing set in the school playground at recess — I'd swing as high as I could and sing as loudly as I could, always gospel because those were the only songs I knew. It was easy when and because I knew that nobody was listening. School playgrounds tend to be very loud places.
Which was the first album you ever bought?
I bought Bill Evans' Sunday at the Village Vanguard back when I was in high school. I don't remember exactly how I stumbled upon My Man's Gone Now back in the days when nobody, especially not teenagers, batted an eye about pirating music, but I think I probably stopped breathing. I went out and bought the album sometime shortly after.
(Ed.) Here is it:
Which musicians do you particularly admire and which one do you think influenced your music?
Are you still in love with your profession as musician? How do you keep your enthusiasm always live?
Yes, I am. I do it because I want to. If ever I didn't want to anymore, I'd simply stop. I think one of the ways I subconsciously keep my enthusiasm is to remind myself that I'm privileged in that I don't have to do anything I don't want to do.

How do you manage your music life with your "common" life? What is your typical day like?
My music life is my common life. My typical day depends on what I'm working on. Sometimes it's made up of rehearsals, open mics, and shows. Sometimes it's all emails, scheduling, copy writing, and other stare-at-the-computer tasks.
Tell us more about your latest works (album, live tour, new projects).
I'm currently working on my fifth album, which doesn't have a title yet. At the time of writing this, I'm about two weeks away from the first studio recording date, and I'm very excited for it. Unlike my first three albums, this will be less of a playlist and more of an opus, centering on themes of travel and searching. Unlike my fourth album, which told a story from start to finish, this one will move backwards and forwards in time simultaneously and really delves into the realm of the mystical and abstract in a way I haven't previously done. I'm running a gofundme campaign for as long as it takes me to produce the album, and I appreciate any contributions:
https://www.gofundme.com/kosis-fifth-album
I'm also running a theatrical tribute to Abbey Lincoln for the fourth year in a row:
http://www.kosi-sings.com/abbey-lincoln-tribute
Let's chat about music studies
Are you self-taught or have you studied music? You think is important studying music to be a Pro?
I consider myself to be both. I studied music theory in high school and college. I began as a vocal performance major (classical, because the jazz program didn't really exist yet back then), but I only got one and a half semesters of classical voice lessons before I was dropped from the program. I took private piano lessons as a teenager for about two years, but I didn't keep up once I no longer had access to a piano to practice. I've had about eight private guitar lessons, after which I could no longer afford them. I took vocal improvisation lessons with master jazz vocalist Miles Griffith for close to a year until I could no longer afford those either. So I've definitely had a solid foundation built for me, but I've had to fill in a lot of the gaps myself.
Did you keep on studying?
Yes. I dropped out of college in about 2008, but I started taking guitar lessons in 2012.
While you are on the road did you find the time to improve your technical skills on your instrument? Do you think is it important?
Yes, I do, particularly on guitar, because I don't consider myself proficient on it. I learned from a professor in college that fifteen minutes of focused practice every day is superior to an hour or a couple hours of noodling. When I tour, I travel by bus, and because I can't control the bus schedule, sometimes I have long periods of waiting at a bus stop for a transfer, waiting at a coffee shop for a bar to open, waiting at a bar for a gig to begin, etc. and so it's easy to find fifteen or twenty or thirty minutes every day to work on my technical skills.
Album Production
Can you describe the process you go through when you are writing a song? What inspires you to write?
I don't know what the process of writing a song is for me. Songs write themselves and then take up residence in my head until I acknowledge them and write them down. Then it's usually just a matter of cleaning up syntax, word choice, etc. That's often the hardest part, because my songs (at least the ones that lodge in my head) tend to be a fiery snapshot of whatever I was feeling at the moment the song was created, and sometimes it transforms itself (as feelings do) before I get a chance to write it down, leaving me to wrestle with the question of which truth I want to tell. For example, the song Here, which will be on my upcoming album, started out as a song about arriving at DC Union station and turned into a song about simply existing in space and time. By contrast, the song Brianna (from my second album) came into existence when, standing on a street corner a half block from my house, I saw a dress in a shop window and it made me think of "Brianna" (this is a fake name), which then turned into the line "I saw a dress in a shop window and it made me think of you, Brianna."
"In all, [I Know Who I Am is] a rich, breathing, urgent album and Kosi inflects every measure with unflinching integrity. "Diva" is a hopelessly devalued word these days; we need a new one for singers like this, who stand their ground and deliver the goddamn goods." — Robert Rodi, Newcity Music 
Album/Ep/Singles any favorite way to release your music? and why?
It's my experience that it's more cost effective to create a whole album than it is to create several individual singles. I record in the jazz tradition, which is to get the best musicians together in the studio and record the song down once, twice, maaaaaybe three times, and then choose the best one. I don't have the patience for a fourth take. Also, my music doesn't tend to have many harmony layers. As such, it's never necessary to spend all day on one song. For example, my first album was literally just me and my guitarist. It took us three and a half hours to record the whole album. Also, my upcoming album will feature eight musicians other than myself. It's much easier to coordinate eight musicians over one or two studio dates to record multiple songs than it is to coordinate them over several dates to record one song each.
How do you plan an album production and his release?
It usually involves lots of lists scribbled on lots of little tiny pieces of paper, haha! The year before last I had some difficulty navigating the production of my fourth album and my coinciding touring. This year I've given myself more space, and I've decided to record in the winter because I don't like to tour in the winter. I plan to be done tracking well before I start touring in mid April, and then I can work on mixing and mastering when I get back. I like to release on a day with cosmic significance. My first album was released on the fall equinox, my third was released on Abbey Lincoln's birthday, and my fourth was released on my birthday. I may release my upcoming album on my birthday as well, unless I think of a better plan.
When you release an album how much is important for you the tracklist? And the time between the tracks?
Particularly in the case of my last album and my upcoming album, the track list is incredibly important. Putting them in the wrong order, or leaving one out altogether, would lessen the overall effect. In the case of my last album, it would damage the chronology of the story. In the case of my upcoming album, the tracks are assembled in such a way that the experience of listening to the album as a whole will be different from the experience of listening to the tracks individually. I'm also considering experimenting with the flow between the tracks. An indie group that I respect, the Oh Hellos, has some tracks on their last couple of works that flow so seamlessly that it's not obvious where one track ends and another begins. Daniel Caesar also uses this effect well in his last album. I've never done it before, but I may try it with my upcoming album because I like the effect.
Do you produce your records by yourself or do you prefer to have some extra ears or a producer to guide you?
I always produce my records by myself. I'm not averse to having other people listen and give their opinion, (in particular, my engineer) but I always have the final say. I've been producing my own albums out of necessity; I don't have it in the budget to pay a producer. But I think I'm a capable producer, or at least I've been growing into the role. I used to write arrangements for orchestra when I was in high school and for big band when I was in college. I find that being a producer is not much different from that.
Did you record your music in a rented professional studio, home studio or in any other way?
I don't have a big enough home for a home studio. All of my albums have been recorded at professional studios.
How did you choose the musicians for your album?
I am privileged to be born and raised in New York City, where there is no shortage of musicians. Every single one of the musicians on my upcoming album is somebody I have known for years and some of them I've had the honor of performing with before. Every single one was chosen because I like their sound and their vibe. Also, I subscribe to the Ellingtonian philosophy of tailoring my arrangements to fit the strengths of the musicians I have available, which is much easier to do when I'm working with musicians I know well.
Did you mix and master your album/tracks in different ways for digital and physical releases?
Is there some advantage to doing it this way?
Album Promotion
Are your records only digital or also physically distributed?
It's my experience that when I'm on tour, people want to buy a cd from me, and they want me to sign it, so it's not useful for me to release only digital records.
What types of promotion and marketing have you found to work best for an independent artist?
I don't know the answer to this. I haven't figured out the secret to promotion and marketing yet. But I do know that people tend to buy CDs from me at my live shows, and so the quick-and-dirty solution seems to be to play more live shows in front of more people. In the mean time, I'm also doing lots of research on how to promote digitally to a wider audience than I can physically sit in front of. If you have any solutions that work, I'm all ears.
There are some music industry analysts who argue that the CD is dying. What percentage of your sales are physical CDs and what percentage of your sales are in other forms (e.g. online)? Do you see that changing significantly in the future?
I find that I make waaaaaaaay more in sales of CDs than I do in digital sales. This may be because a physical CD is a souvenir of the memory of an intimate moment. CDs can be signed, and messages left on them. Also, when people see me performing live, they understand that I'm an independent artist in need of support, and they want to support me. On the internet, I'm barely even a voice in the din. It's possible that one day CDs will fall out of favor if only because fewer and fewer people will even have a CD player. I imagine that if I'm still not famous when that happens, I'll make more money selling other merch items, because people will still want a momento. I don't necessarily believe that the CD is as close to death as some people are predicting, though. Jay-Z, who tends to be on the edge of new technological developments, is still selling CDs of his most recent project. He wouldn't bother if he didn't find it to be worth the money. So I think it's still pretty safe for us indies to assume that CDs are selling.
"As a songwriter, Kosi tells wonderfully crafted stories so deep and intimate it may appear that she's shared too much, until you realize that a part of you is in there with her. As a performer, Kosi intertwines folk and jazz sensibilities with her unique vocal instrument. A compelling crowd pleaser from the moment she steps on stage." — John Hayes, Pittsburgh Songwriters Circle
Have you a mailing list? You think is a "must have" as most people in music business said?
I do have a mailing list (which you are welcome to join: http://www.kosi-sings.com/mailing-list.php). I find that it is useful for disseminating information about my tours and new releases. I'm an advocate for using every available avenue, so I send monthly messages to my mailing list, and I post on facebook, instagram, and twitter. I do like the mailing list the best, though, because sometimes my fans write me back.
Do you think that, with all the digital alternatives, radio airplay still has an effect on the success of a release? And how does an independent artist get radio airplay?
Honestly, I don't know. But through submitting my releases, I've developed relationships with quite a few local DJs in different towns. I can't say for sure whether that leads directly to increased sales, but through relationships with the DJs, I've gotten performance opportunities and spots in festivals and that certainly helps.
What do you think about streaming services like Spotify and Pandora?
I am ambivalent about Spotify and Pandora. As a music fan, I love them, and so I understand why other music fans would as well. They're easy to use and they're great for music discovery as well. In fact, I have a spotify playlist that I update every month and send to my mailing list subscribers, and it always includes a mix of established and independent artists. However, as a content creator, it seems impossible to make any money on it, and as an indie artist, it feels impossible to position myself so that new fans will discover me. I don't know how to resolve that reality. Personally, if there's an independent artist I want to support, I buy the album on bandcamp, but then I also stream it on Spotify.
Follow our Spotify Playlist:
Did you work with booking agencies or you manage your own gigs?
How do you promote a gig in a new town/country/region?
If I'm going to a new town for the first time, I try to arrange to stay for a week or close to a week, and play at every open mic that I can. Also, I try not to book gigs where I'm solely responsible for bringing the audience. Booking with other popular artists helps. But mostly I find that continually going back to the town will be the most efficient way to build an audience.
Organizing a tour could be really expensive especially if you travel with a band far away from your country, how do you manage everything to earn and don't loose money?
I've never toured outside the country, and I've never organized a tour with a band. I carry my guitar and everything I can fit in one carry-on suitcase and travel alone on the megabus and the greyhound. I crash on the couches of friends and fans (and sometimes people I meet on couchsurfing.com) and I try to negotiate at least one meal at every gig I play. I find that when I remind my audience that "when you buy my merch I can eat tomorrow, so please do" they're more likely to buy merch from me.
Did you sell your physical CDs, Merchandising and other?
Yes! I sell physical CDs and download cards (though strangely I don't sell very many download cards). I used to sell tee shirts, but they are very heavy to carry around in a carry-on suitcase, so now I only sell them online. I also sell hand made keychains. These aren't available online because each one is different and I have too many to list each one on a website.
Somebody says that House Concert are the future of live music as many club are closing. What do you think about it? Have you organized any?
I've never organized a house concert, but I've played at house concerts that were organized for me. I love the idea, because they're much more intimate and informal.
Every time you play your music you are giving a big part of you to your crowd, do you feel tension before a concert? If yes how do you manage it?
Sometimes I feel tension before a concert and sometimes I don't. I haven't figured out the pattern yet. I usually manage it with alcohol.
Which is the difference between a big audience or a small one?
The difference between a big audience and a small audience is the number of people in attendance. 😉 But seriously though… I haven't played in front of an audience of more than fifty people or so, so I don't really know. But when there are too many people in the room, it makes it easier to focus my attention on a fictional person without anyone feeling slighted. I've heard that it's good practice to look your audience in the eye, but I've also heard that my eye contact is very intense when I'm performing, so I try to use it sparingly. I think of my act as voyeuristic, as a person or group of people watching me undress as though I don't know they're there. It's easier to keep up this pretense when there are a lot of people. When there are only a few people, it's harder to avoid their eyes, and so it becomes a different kind of performance.
Music Business
Have you a daily business routine? Checking/writing E-mail, phone calls, create new connections?
I don't have a routine. I tend to think more in terms of "what needs to be done today" rather than having a set schedule for every day.
Which percentage of your time is dedicated to: "Creating Music", "Promotion", "Organizing gigs/tour", "Studying", "Reading", "Listening Music"?
The percentage changes daily. I try to work with the energy of every day rather than against it. On some days, particularly when I have a tour on the horizon, I'll spend most of my day organizing gigs and/or promoting. On other days, particularly when I've hit a brick wall with my promoting and organizing, I'll spend most of the day researching. I listen to music constantly while I'm working on other things. I try to practice for at least twenty minutes a day, but sometimes twenty minutes will turn into two or three hours.
Do you think that the Artist status is compatible with the entrepreneurship? Do you think that an Indie artist needs to be also an Entrepreneur?
As an indie, it's impossible to separate the artist status from the entrepreneur status
As an artist, which are the biggest differences between being represented by a major label or being representing by yourself?
I've never been represented by a major label so I don't really know, but I imagine that the difference is upfront money, connections, and administrative assistance. As an indie artist, I have to raise the money myself whenever I'm doing a project. Sometimes, when I run a crowdfunding campaign (as I'm doing now: http://www.gofundme.com/kosis-fifth-album) my fans help. But I usually provide the bulk of the funding, which limits what options are available to me, at least as far as promotion goes. I don't have any connections with any industry professionals who could get me, say, a review in Downbeat Magazine, whereas I imagine a major label could easily this for me. Also, the tasks of sending hundreds of emails contacting PR agents, blogs, radio stations, etc, fall to me because I can't pay anyone to do them for me. Even the task of figuring out who to contact falls to me. I would imagine a major label would have all this information compiled in a database.
Which PRO (Performing Rights Organization) are you affiliate with and why did you choose that? 
I'm with BMI. I signed up with them about ten years ago, and I don't remember why I went with them over ASCAP.
As a full time musician I immediately realized that I can't only work as musician and I should extend my expertise in different fields. So, I became a Sound Engineer, composer, producer too. Did you also develop different fields? Which one? What do you like and do not like about each one?
I think my learning to play the guitar falls into this category. I learned it so that I wouldn't have to rely on accompanists for every gig, and the result is that I can tour by myself and when I'm home I can play in the subway (busk).
What's your relationship with the social networks?
I spend far too much time on facebook, haha! Because I use it for quite a big percent of my everyday communication, I tend to communicate my projects (gigs, albums, etc) on facebook as well.
DISCOVER MORE ABOUT KOSI:
---
---
[:]
Ti potrebbe interessare anche
Marzo 12, 2018
Febbraio 1, 2019
Aprile 28, 2018