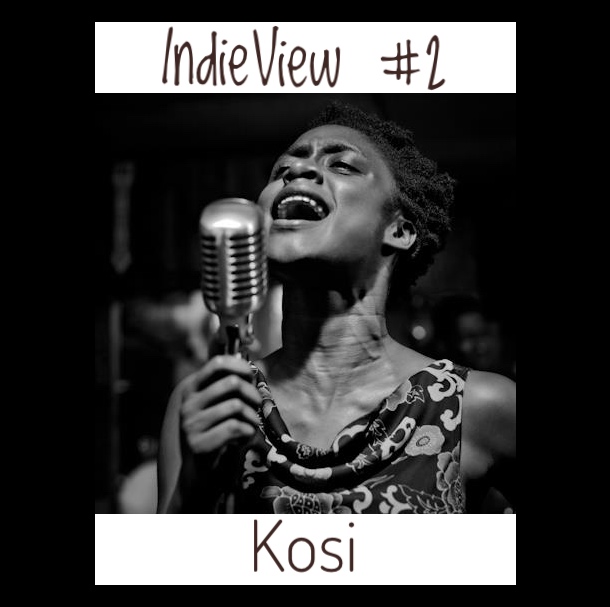 Here we are at our second appointment with IndieViews. Today we will be talking with a jazz songwriter
from New York, KOSI.
I had the pleasure of getting to know her and her latest album "I know who I am" during the promotional tour for the 60th Grammy Awards.
Here we go.
Kosi
One More Cup of Coffee – 2013
Pictures of Us – 2014
Ghosts Appearing through the Sound – 2015

I Know Who I Am – 2016
This is what our friend Tri Nguyen says about the album: "A capella for the first track just gave me goose bumps. The more I plunged into the record, the more amazed i was. The album not only shines thanks to your formidable vocal beauty, but the conception, the message, the integrity of this masterpiece is breathtaking. I really can't say which tracks are my favorites, I just love them all!!! Servant's prayer has an original structure that nails you to the speakers and doesn't let you go. There is power in each and every track."

ABOUT YOU
If we cast your mind back to when you were a kid and a teenager: what are your earliest musical memories?
I was in the children's choir in a little country church in Rosedale, Queens. Back then I thought I was a soprano. It turns out I was wrong about that. I rarely ever volunteered for a solo because I was too shy, but when I knew I would be drowned out by other kids all singing as loudly as they could I would also sing as loudly as I could. I would do the same thing when I was on the swing set in the school playground at recess — I'd swing as high as I could and sing as loudly as I could, always gospel because those were the only songs I knew. It was easy when and because I knew that nobody was listening. School playgrounds tend to be very loud places.
Which was the first album you ever bought?
I bought Bill Evans' Sunday at the Village Vanguard back when I was in high school. I don't remember exactly how I stumbled upon My Man's Gone Now back in the days when nobody, especially not teenagers, batted an eye about pirating music, but I think I probably stopped breathing. I went out and bought the album sometime shortly after.
(Ed.) Here is it:
Which musicians do you particularly admire and which one do you think influenced your music?
Are you still in love with your profession as musician? How do you keep your enthusiasm always live?
Yes, I am. I do it because I want to. If ever I didn't want to anymore, I'd simply stop. I think one of the ways I subconsciously keep my enthusiasm is to remind myself that I'm privileged in that I don't have to do anything I don't want to do.

How do you manage your music life with your "common" life? What is your typical day like?
My music life is my common life. My typical day depends on what I'm working on. Sometimes it's made up of rehearsals, open mics, and shows. Sometimes it's all emails, scheduling, copy writing, and other stare-at-the-computer tasks.
Tell us more about your latest works (album, live tour, new projects).
I'm currently working on my fifth album, which doesn't have a title yet. At the time of writing this, I'm about two weeks away from the first studio recording date, and I'm very excited for it. Unlike my first three albums, this will be less of a playlist and more of an opus, centering on themes of travel and searching. Unlike my fourth album, which told a story from start to finish, this one will move backwards and forwards in time simultaneously and really delves into the realm of the mystical and abstract in a way I haven't previously done. I'm running a gofundme campaign for as long as it takes me to produce the album, and I appreciate any contributions:
https://www.gofundme.com/kosis-fifth-album
I'm also running a theatrical tribute to Abbey Lincoln for the fourth year in a row:
http://www.kosi-sings.com/abbey-lincoln-tribute
Let's chat about music studies
Are you self-taught or have you studied music? You think is important studying music to be a Pro?
I consider myself to be both. I studied music theory in high school and college. I began as a vocal performance major (classical, because the jazz program didn't really exist yet back then), but I only got one and a half semesters of classical voice lessons before I was dropped from the program. I took private piano lessons as a teenager for about two years, but I didn't keep up once I no longer had access to a piano to practice. I've had about eight private guitar lessons, after which I could no longer afford them. I took vocal improvisation lessons with master jazz vocalist Miles Griffith for close to a year until I could no longer afford those either. So I've definitely had a solid foundation built for me, but I've had to fill in a lot of the gaps myself.
Did you keep on studying?
Yes. I dropped out of college in about 2008, but I started taking guitar lessons in 2012.
While you are on the road did you find the time to improve your technical skills on your instrument? Do you think is it important?
Yes, I do, particularly on guitar, because I don't consider myself proficient on it. I learned from a professor in college that fifteen minutes of focused practice every day is superior to an hour or a couple hours of noodling. When I tour, I travel by bus, and because I can't control the bus schedule, sometimes I have long periods of waiting at a bus stop for a transfer, waiting at a coffee shop for a bar to open, waiting at a bar for a gig to begin, etc. and so it's easy to find fifteen or twenty or thirty minutes every day to work on my technical skills.