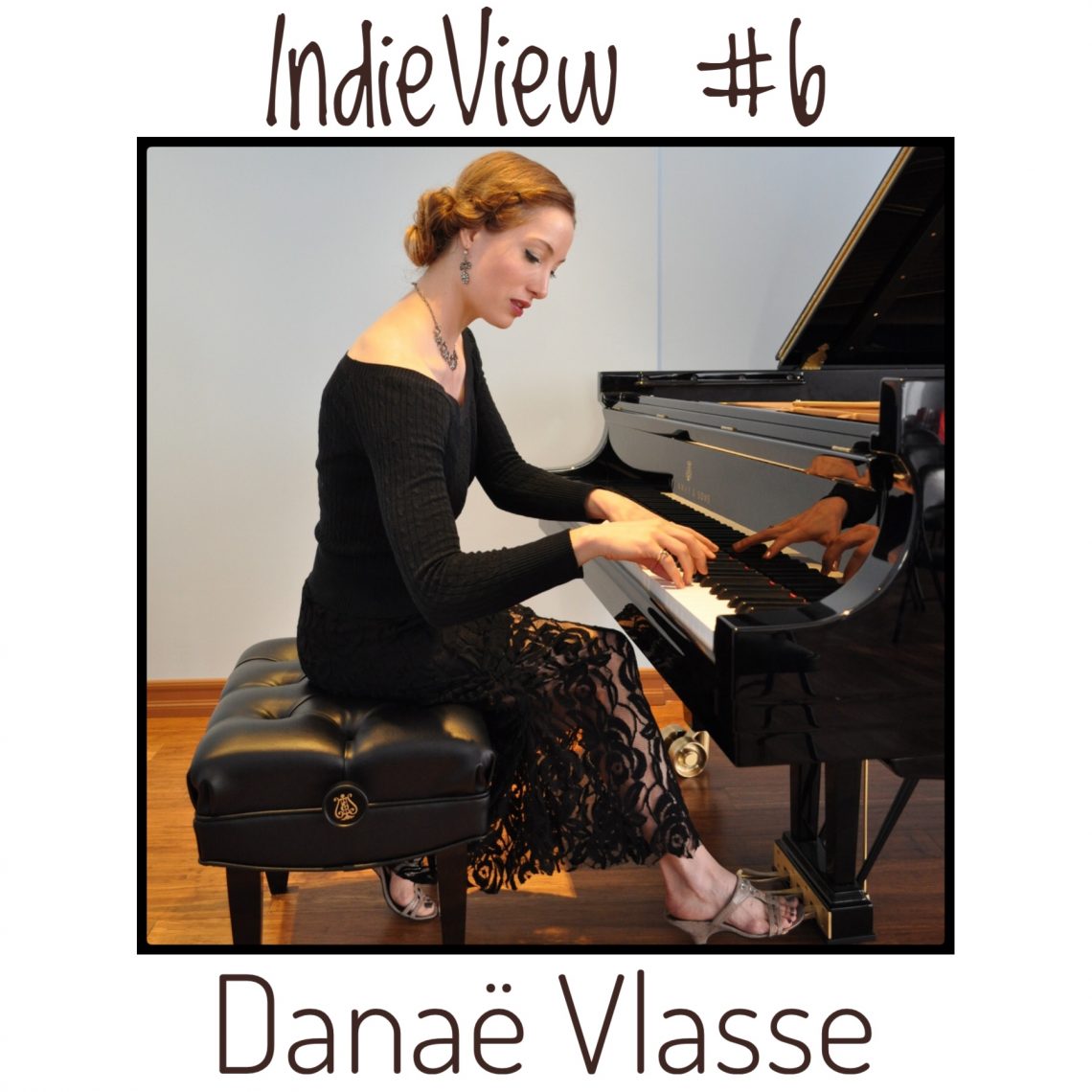 Danaë Vlasse – IndieView #6
In this sixth episode of the IndieViews we are going to chat with the amazing Pianist and Composer from Bordeaux, France now based in Los Angeles.
Danaë Xanthe Vlasse is the director of Music Vision Studios, where she teaches piano, theory and composition. She is an MTNA Nationally Certified Teacher with a degree in Piano Performance and over 15 years of teaching experience. As a composer she has contributed to the film industry, and her work as been featured on international radio broadcast. She is a recipient of the Clouzine International Music Awards, Radio Music Awards, multi-recipient of the Global Music Awards, and the Prestige Music Awards, as well as a multiple-winner of the MTAC "Composers Today" Advanced Division, multiple-winner of the Indie Music Channel Awards, nominated at the Independent Music Awards, and multi-nominated at the Hollywood Music in Media Awards. Furthermore, she is active in collaborations with other composers from all over the world; she has worked with composers and musicians living all over Europe, the Middle-East and India.


2013 – Danaë released a CD called "The Swans, 12 Valses Mélancoliques" in which she performed the music of the Berlin-based composer Stephan Beneking. The 1st track on the album was in the "top 10" Classical hits on Soundcloud through the 2014 New Year!

2015 – Mrs. Vlasse released an album called "Celebrations and Commemoration" featuring her own compositions, and shared the performance of her works with the Spanish pianist Carlos Marquez.

2017 – Mrs. Vlasse released a piano solo album called "Trilogies," featuring a selection of her most popular piano pieces which combine into nearly a quarter-million online plays!
2018 – Mrs. Vlasse and Mr. Mischa Lefkowitz (most senior violinist with the Los Angeles Philharmonic) released "Solstice" which offers listeners a complete collection of her violin and piano music on a single album!



ABOUT YOU
If we cast your mind back to when you were a kid and a teenager: what are your earliest musical memories?
I began piano lessons at the age of 5. I remember my first piano teacher training her students to practice performance skills, and she wanted us to be able to perform in spite of distractions; she gathered all her students in her home for a group class every month and we'd practice performing while the "audience" had fun trying to create distractions, and my teacher encouraged us to come up with noises. I remember for me (as a 5 yr old child) the most distracting thing I could imagine was barking like a dog and I did my best to be truly authentic in my imitation! My teacher was not amused! The irony is that 25yrs later I actually witnessed a concert in which an excited dog walked across the stage in the middle of a performance… so it turns out my imagination was fairly pertinent to real life! 🙂
Which composers do you particularly admire and which one do you think influenced your music?
The composers I most admire are the great icons of history;
Bach
,
Beethoven
, and especially
Chopin
,
Liszt
,
Brahms
,
Rachmaninoff
. I am always deeply moved when my music is compared to theirs because I am so frequently in awe of their incredible command of their art, and their ability to capture ephemeral states. I adore studying scores as I teach this music to my students because every time I delve into repertoire of this quality I discover something new to explore in my own writing!
Which is the best concert that you have been to?
Oh there have been so many concerts that have brought me tears of joy… I most recently attended a concert of art-songs given by soprano Hila Plitmann. She is a Grammy-winning soprano with a super-human vocal command, and I should add she's one of the kindest people I've ever had the pleasure of meeting! That concert was utterly unforgettable for it's poignancy, authenticity and sublime musicianship. I love seeing an artist get lost in a character and bringing the audience into that scene in the same manner as one gets lost in a movie. Hila will be premiering one of my compositions this month and I'm certain I'll have a huge smile through the whole performance because I'm so honored to hear someone I admire so much perform my music! :-).
What does music mean to you?
My whole identity is built around music; I sign my name with a treble-clef in my signature!

Are you still in love with your profession as musician? How do you keep your enthusiasm always live?
I struggled a lot with the rigidity of my practice routine when I was younger. In fact, I had a terrible creative and emotional burnout when I was 20yrs old – just as I was finishing my last year of undergraduate studies in Piano Performance. I decided I couldn't continue spending hours a day alone in a practice room, battling my inadequacies. I had always loved to travel, and I loved studying Sociology, History, and English, so I decided I wanted to transition from a music performance degree into Ethnomusicology, and I applied to several universities. But then when I got a call from a Program Director offering me a scholarship to do my Master's degree in Ethnomusicology, I realized that I couldn't imagine leaving
Chopin
behind… so I thanked him for calling me, and asked him to offer the scholarship to someone else. I had changed my mind…and in those 5-minutes I recommitted myself. Now I have a "hybrid" music career in which I teach and compose every day, and I am more fulfilled than ever! I really adore the creative process and I feel that engaging in a variety of creative outlets really helps strengthen my music-making. I know that teaching helps me grow as a composer because when I teach students to study their scores, I learn how to better communicate musical concepts when I put ideas on paper as a composer. I also grow as a teacher when I compose, because I can bring composition concepts to the forefront of lessons, and help students better understand how their knowledge of music theory and structural development apply to their repertoire.
When did you decide to be a full time musician?
I was a teenager when I started winning competitions, and gaining the approval of my peers through my playing; it made me feel valued, and that helped me focus my energy on pursuing a degree in music.
How do you manage to balance your music life with your "common" life? What is your typical day like?
My weekends are filled with social events and concerts, as well as much-needed time outdoors; I love hiking in particular! My weekdays are regimented by my teaching schedule; I fulfill social-media and administrative duties first thing in the morning. I also prepare to teach in the early part of the day, and then I give lessons between 1pm and dinnertime. I don't usually have time to pursue composition work until after dinner but that suits me because I am most creative at night and I like to work late in the day because there are fewer distractions and interruptions. I've always adored the mystery of the night, and I feel that the nocturnal atmosphere allows me to delve more fully into introspection, which I need in order to be really "honest" in my writing.
Tell us more about your latest works (album, live tour, new projects).
My most recent album SOLSTICE was a gradual accomplishment; the recording process was stretched over a span of 3 years. I'm so grateful to be able to collaborate with such an artist as violinist Mischa Lefkowitz! How we met is a funny story actually; In November 2014, I was attending the concert premiere of one of my compositions by pianist Harout Senekeremian. My piece was the last work performed before intermission, so during the 15-min intermission I was approached by several audience members offering praise for my work. Among the people who spoke to me was a gentleman who didn't introduce himself, he just complimented my music and asked me whether I ever wrote music for strings. Well, I had no idea whom I was speaking with and my mind was on a future project for the cello, so I went into an ebullient monologue about how enamored I was by the cello! I could not fully conclude this conversation before intermission ended, so we each returned to our seats half-way through a conversation. When I sat down, a friend who was seated behind me tapped me on the shoulder and exclaimed, "So, I saw Mischa spoke with you – it's great! You should be flattered!" At that moment I learned I had been speaking with a highly-regarded violinist, who happened to be the most senior member of the Los Angeles Philharmonic! I spent the last half of the concert upset with myself for having been so self-absorbed and having not asked the man who he was and I wasted that precious conversation espousing my love of an instrument he doesn't even play; I was convinced I'd made a poor impression and that I'd certainly lost the opportunity to write for this wonderful violinist! The next day I was thrilled to see Mischa had emailed me and asked me if I would write something especially for him. I was intimidated and excited all at once! We have enjoyed a close and fruitful friendship ever since!
 "Danaë's musical world is very unique. It speaks to the soul because it is written with the heart. She manages to make boundaries between composer, audience and performers disappear." ~ Cécilia Tsan ~ Principal Cellist with the Long Beach Symphony Orchestra
Which is the last book that you read?
I'm currently reading "The Secret Life of Musical Notation" by Roberto Poli. It's absolutely wonderful to discover a fresh approach to interpretation of music by the great Classical and Romantic masters. I am so impressed with the carefully considered approach that Poli offers for specific interpretation of certain symbols relating to dynamics, accents, and pedaling. There are many reasons we don't fully understand how to interpret details in the scores by past composers; to some extent the composers themselves evolved in their notation practices during their lives, and of course editors may have made mistakes in transcription and printing, but also we must take into consideration shifting musical tastes; all these things have distorted our understanding of what the great composers may have originally intended in their musical notation. I'm really happy to discover alternative ideas in how to approach the great works of Mozart, Beethoven, Chopin, Brahms, Schubert, etc. I am applying these new thought-provoking concepts in lessons with my students, and it helps me think very critically as a composer about how I represent my musical ideas. I would heartily recommend this book to all musicians who play music from the late 18th through 19th centuries!
What are your goals as a composer? What do you hope to accomplish overall with your writing?
As a composer I seek three things in my writing:
1_Beauty; I hope the music speaks for itself. Ideally a casual listener can appreciate my music on a superficial level, and then a serious listener can be rewarded by discovering layers of complexity that reveal themselves upon further listening.
2_Truth; I'm not seeking to capture some grand metaphysical concept of Truth, but just an honest expression of my own sentiments. The best way to be sure of having achieved that Truth is to hear audiences describe how they feel sentiments I didn't explicitly reveal: then I know that I connected my own humanity to my listeners.
3_Elevation; I think that beyond reflecting my own reality, my music should explore imagination, and within that imagination I want to offer revelation, hope, transformation; I feel my art should serve by elevating the listener.
Listen to Danaë's Music and the other IndieViews Artists on our Spotify Playlist:

Can you describe the process you go through when you are writing a song? What inspires you to write?
First let me tell you about inspiration:
I am inspired by so many things… just listening to great music inspires me and I often take notes in the margins of concert programs while I'm listening to live concerts! Ideas come to me quite easily… but I don't always have the time to pursue ideas beyond a rudimentary sketch. Sometimes I wake up in the night with an idea, or I have to pull the car over to the side of the road to sing something into my phone in order to record a melody before I forget it. Of course I'm also inspired by life-events; I've written music in commemoration of a cat I loved dearly for 16 years, and I've written music for weddings and for birthdays too! I am always inspired by beauty – it can come in many forms, such as in Poetry, Dance, Visual Art, Nature, and great stories! I've been slowly accumulating compositions inspired by Ancient Myths so I'm not far from having enough material to release an album driven solely by Mythology; I'm half Greek so I feel a sense of personal attachment to Greek Mythology (my father is from the island of Ithaca, which is famous for having been the home where king Ulysses sought to return in Homer's Odyssey). I think "MYTHOLOGIES" is an album to look forward to in 2019!
Now let me tell you about my composition process:
New musical ideas come easily to me, but I should emphasize that the composition process is quite unpredictable; sometimes music emerges out of me effortlessly, and everything just "magically" falls into place on the page. Other times the process is very slow, and carefully applied; starting something new is usually easy, but finishing it is what takes time because I want to ensure that I am fully exploring every possible facet of the composition! Sometimes I do get stuck in a piece because I am either stuck in developing the structure (unsure how to move between keys and join large sections in a manner that makes sense musically) or I'm stuck with the story-telling (questioning how to express the emotional material in a natural manner). Sometimes I get an idea and over time I have to rewrite a passage because I discover it's too technically uncomfortable to execute; I don't like writing music that's unnecessarily hard to play because as a teacher I spend so much time helping my students find comfortable ergonomic solutions to play their repertoire. I personally have quite small hands, so I'm conscious of technical handicaps that prevent music from being played; I want my music to be enjoyable for performers! Another reason my writing process can be quite slow is that I routinely throw away 50% of what I first put on paper because I am constantly revising my music. The more complex the piece, the more time I'll spend editing the score before I finally decide to record the music. I've often spent 6 months composing a piece and then another 6 months "living with it" and practicing it on a weekly basis in order to ensure that the notes on the page REALLY represent my ideals. If the piece is a piano solo which I intend to teach to my students then I'll go into excruciating detail in planning every possible mark on the score – even adding fingering to ensure my students have as much help as possible when learning the music.
On occasion I do have to compose music on a really short deadline, and I really don't like that because I don't have the time to really enjoy the creative process and I worry that I'm leaving too many possibilities unexplored when I must rush to finish a piece.
Tell usabout the last time you had to write something on a short deadline?
Actually the piece I just mentioned which will be premiered by Hila Plitmann this month – that's something I wrote in just a few hours. The request to write something "short and sweet" came during a dinner-conversation on a Sunday night, and I was told it needed to be submitted that week. But I already had a million things happening that week, so I only had Monday evening to work on it; I completed the primary draft on Monday night and revised it late Thur night, then delivered it on the Friday morning. I'm always uncomfortable working that way because it really doesn't suit my personality; I'm extremely thorough, methodical, and detail-oriented. I like taking my time to fully commit to what I do and I detest working under stress!
What it's like to have others interpret your music?
When I first started composing I used to be overly concerned with how to communicate my ideas to interpreters, but over time I learned to trust the musicianship of the superb artists playing my music and I found that I didn't need to prescribe an infinite amount of information because good musicians play musically by intuition! It is a profound compliment to a composer when a performing artist is willing to take the time to learn a new piece which is not in the standard repertoire – especially in the Classical world, which has such a wealth of amazing "old music," it's flattering when people are willing to take a chance exploring new composers; furthermore it's really encouraging when concert venues are willing to present new music in their concert series! Fortunately, Los Angeles has a vibrant musical scene which welcomes the presence of new music, and even these traditionally conservative Classical audiences are regularly exposed to works by living composers. One of the wonderful things I've discovered is that my ideas seem to transmit well to listeners; I've been delighted to discover that my music is really well reviewed and every time a piece is premiered I am immediately inspired to work on the next composition! The reality is that I would write music for my own enjoyment even if there were never an outlet for it to be heard, but I'm endlessly encouraged by the fact that so many artists and audiences have expressed enthusiastic support of my music!
Some say that House-Concerts are the future of live music as many other venues are closing. What do you think about it? Have you organized any?
Home concerts are a wonderful way to bring a close engagement between performer and audience and I believe that home-concerts are an important addition to traditional concert venues, but they should not replace concert halls. From a practical standpoint home-venues cannot be the exclusive setting for performing arts because of the many limitations imposed by lack of space in a home; in a house-concert there is no room for a full orchestra, or a big choir, there is no stage and no room for or any large props and staging as is customary in operatic performance. Also the sound quality is rarely as good in a private home, and audience-seating is much more limited, so a growing concert series is always going to be limited in its growth by limited seating. It's also important to note that many instruments are just not available in a private home, whereas they are present for large concert venues; for example a great organ concert just can't be had in a private home… I've never seen a truly wonderful organ in a private residence… apart from the palace of Versailles! 😉

Tell us about your teaching?
I have students of all levels and they currently range in age from 5 to 89 years old! (I actually have two students over 80 years old right now!) I teach in the Classical tradition, but I always allow my students to be engaged in choosing their repertoire, including arrangements of film-music and some pop-music repertoire. I include technical exercises (such as scales and Hanon Excerises) as part of a basic technical foundation, and I typically include music-theory studies up to at least the mid-intermediate level because I feel it's so important for students to understand how theoretical knowledge relates to applicable concepts in interpreting their repertoire. I also teach composition to students who have had at least two years of theory; seeing my students thrive in their own compositional experiences is one of the most fulfilling parts of teaching! Apart from teaching composition (which is not commonly taught to young children) I have a slightly unusual studio in another area; Adult students actually comprise about ¼ of my studio! I love the variety it brings to my teaching when I move from working with an old man managing to play in spite of Parkinson's tremors,  then suddenly shifting gears to capture the distracted mind of a young child! I love working with children and watching them grow into young adults; I've been teaching for about 15 years now so I've been through a full cycle of growth experiences with my students. As students grow up my role with them shifts in three stages; (1) being an authority figure (this applies roughly up to age 12), to (2) being a mentor (this applies especially to teenagers who need nuanced advice on interpersonal relationships as much as they need concrete advice on College applications), and (3) eventually I see my role as teacher shift into being a patient friend to all my adult students! I'm impressed by my adult students; they inspire me because they are willing to put themselves in a position of "novice," which requires a great humility and perseverance at that point in life. I know for the adults in particular the daily challenge of practicing is especially daunting as they are being pulled in so many other directions by their responsibilities at work and with their families. In summary, I appreciate the sense of camaraderie I share with my adult students, and I feel equally privileged to be entrusted with the education of my younger students. Teaching is interesting and rewarding for me on a social level too because it gives me access to a wonderfully diverse group of people and it allows me to feel engaged in the well-being of my community!
"Each time we listened we were taken to a world where commercial trappings didn't have to exist and where ART for the sake of art could not only survive, it could thrive!" ~ Song Pitchers Publishing
Do you have any suggestions for a young musician that is thinking of launching a music career?
Pursue the thing you can't live without. Also, be prepared for enormous work, economic uncertainty and frequent professional adaptation. And when things are hard remember two points: First) Spending 12 hours a day working in a field you love is less tiring than working 8 hours a day doing work you find unfulfilling. Second) It's best to struggle financially doing what you love than to struggle emotionally doing things you don't. That having been said, I don't aim to make professional musicians out of my students. If that happens then it's great, but my main goal is to bring music appreciation to the next generation of music-lovers who will become the patrons of tomorrow and ensure that professional musicians have audiences to support their craft! For students of all levels, whether they are planning a concert career or not, there is one quote I love to share: "Never let success get to your head; Never let failure get to your heart."
DISCOVER MORE ABOUT DANAË:
---
---
[:]